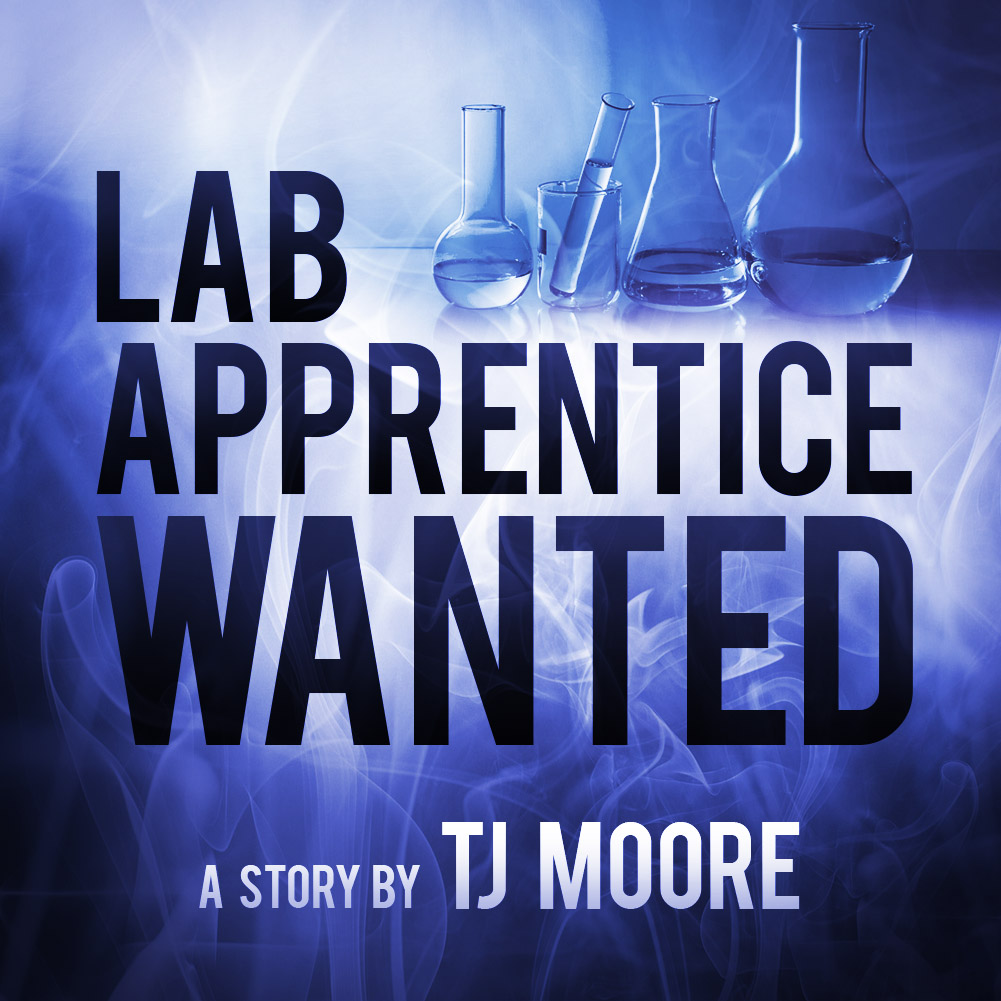 Who doesn't want to work for a mad scientist?
LISTEN TO THE COMPLETE SHORT STORY - 14 MIN. FREE AUDIO BOOK
LAB APPRENTICE WANTED
A Short Story by TJ Moore
Note: The following is a 'help wanted' column fictitiously published by a 17-year-old kid named Zach in Popular Science magazine. There is a huge picture of frizzy, red hair across the first page of the article.
$500,000 STARTING SALARY*
POSITION: EXPERIMENTAL ASSISTANT.
EDUCATION BACKGROUND: WELDING, PhD IN PHYSICS (AND ORGANIC CHEMISTRY, IF POSSIBLE).
OTHER REQUIRED SKILLS: HOLDING BREATH, HOLDING WRENCHES, JUST…UH…IF YOU CAN HOLD STUFF…YOU'RE BETTER THAN THE MONKEY I HIRED LAST YEAR FROM NASA. HE WAS AN IDIOT.
NOW, WIPE THAT ORANGE CHEETO DUST OFF YOUR FINGERTIPS. YOU DON'T WANT TO DROP THIS MAGAZINE ONTO YOUR OILY THIGHS. IT WILL SLIP RIGHT OFF AND KNOCK OVER YOUR DIET MOUNTAIN DEW. DON'T DENY IT. I CAN FEEL THE TINGLE OF CARBONATION FROM HERE. IF YOU SPILL THAT URINE-COLORED SODA, YOU WILL HAVE AN ANT INFESTATION FOR A VERY LONG TIME. I'VE BEEN THERE; AND YOU DON'T WANT THAT.
IF THE TECHNICAL JARGON IS TOO MUCH FOR YOU, KEEP READING. IT'S GOOD FOR YOU TO UNDERSTAND HOW REAL PEOPLE SOLVE REAL PROBLEMS. THAT IS, OF COURSE, IF YOU SEE TIME TRAVEL RESTRICTIONS AS A PROBLEM.
*(ACTUAL WAGES BASED ON PERFORMANCE)
———
Get this through your fat skull: I don't hire spineless jellyfish.
A little background about myself (before you sell your soul to work for me, unconditionally* (insert evil laugh here).
My red hair is all part of my look.
I don't have to do much to keep it frizzy since the static electricity in my room is equivalent to rubbing two football fields of carpet together. The frizz deflates a bit when I'm in school, but it springs right back where it was during physics class.
Some kids call me Blaze or Flame, even Fire-Fro (that's my favorite); but my real name is Zach Burns. Fire-fro is especially cool because it accurately describes one of the ways I pass time. When I'm not in my room studying the theory of relativity, you can usually find me in the backyard setting stuff on fire. I'm not dangerous or reckless about it. But I am calculated and observant. When I light an object, like a vanilla wafer, on fire, I'm looking for very specific things:
How long does it take to burn to its essential carbon base?
What is the consistency of the smoke?
How do the flames interact with the oxygen around the wafer?
Is there much of a difference if I stack the wafers vs. lining them up like soldiers?
All of these details are an important part of how I see the world. Now, I'm not one of those kids who wants to destroy things for the sake of destruction. And I don't, as they say, "want to watch the world burn." But you can accuse me of being a pyromaniac simply because I burn objects regularly. And it does give me great pleasure.
Some kids at my high school used to make fun of me because I wear a pleated, white lab coat everywhere I go. I wear to it to English, Math, and even Sculpture class. I do this to protect myself from the staggering stupidity around me. Yes, stupid is a strong word, but I use it with the utmost respect. There are many other words I could use instead. Yet, I've found it's more important to call things as I see them. As Mr. Forrest Gump said, "Stupid is as stupid does," and there's enough stupid to go around at Ridgemont High.
I'm writing this column in search of an apprentice. If you think like me, and if what I lay out in the next few pages interests you, please zap me an email at FireFroLab@gmail.com.
You may have heard of me before.
I was featured on the cover of WIRED magazine last year for shipping in 400 gallons of real molten lava from various active volcanoes in the ring of fire. I took the volcano project in Earth / Space Science class very seriously. I thought my teacher, Mr. Clayborne, was going to be furious when the lava truck arrived, but he actually coerced the principal into holding a school assembly that highlighted my demonstration.
Sometimes its healthy for every mad scientist to leave a reclusive state and attempt a foray into the public eye.
Again, fire served me well. And for the first time, I gained a few local fans. CBS news showed up, and then WIRED picked up the story from there: a natural media progression that grew from the brilliance of my concept. And best of all, I didn't have to sell my soul on social media to gain the attention either. The idea spoke for itself.
Students have no excuse to be bored in high school. No excuse whatsoever. If they took all of the energy they put towards dramatic high school relationships, 90 percent of which fail within six months), and aimed it toward scientific pursuits, I'm confident they would find more meaning than the aforementioned alternative could ever bring.
How much enjoyment can anyone really get from kissing an acne-covered, teenage girl anyway? Adolescent faces are living petri dishes. The classifications of bacteria, if fully understood and documented, would put a stop to teenage make-out sessions once and for all, not only in the United States, but the world over.
And if adequate studies were to be published upon these grounds, there would not only be outrage, but disgust at even the thought of holding hands, not to mention all the other forms of PDA. Although the world should, I argue, be aware of the micro-organizations crawling on their own faces, I try not to let these micro issues distract me from my own experimental interests.
I have too many calculations to crunch.
If the acne bit grossed you out or pissed on your hushpuppies, you are most likely not qualified to apply for apprenticeship. Get that bag of Cheetos ready, Buster.
———
Now, I'd like to give you a virtual tour of my lab, the very lab you will work in if you are outstanding in your application and interview.
The house in which I live is notorious for tricking people with regard to its scale. A formidable optical illusion by any standards, my house is much larger on the inside than it appears from the street. This is caused by the ever-sloping incline that dictates the curved sections of the top two floors, leading into the steep roof. If viewed from an aerial cross-section, the funhouse functionality of the structure is dutifully revealed. All other perspectives skew the structure's true form.
That being said, my lab encompasses the entire top-floor, a fully refurbished attic decked out with the latest apparatus in scientific research. On the north side, there is a hadron particle collider similar to the famous one, CERN, although much, much smaller, a flux oscillation chamber, meteorology-tracking Doppler radar, a CT scanner, forced osmosis regulator, color-dye selection, fully stocked hard drive render farm, and my very own rat maze.
On the south side, the Rube Goldberg electrical circuitry catalyst feeds into the copper-wire Tesla coil, a staple of any energy-efficient lab, salad dressing emulsifier, elemental centrifuge station complete with self-actuating cylinders, and the hydraulic lift that leads down to the lower levels of the house.
The east and west corners of the lab are meticulously organized into storage areas for all the materials I use to conduct experiments, including my welding gear, fiber-glass protective shield zone, nuts and bolts drawers, power drills, table saw, glass cutters, airbrush station, scissor-lift, and self-cleaning crane.
If you haven't noticed by now, I don't mess around.
And yeah, spoiled-brat is an understatement. My parents give me their full financial support including insurance coverage on all my equipment. But don't make fun of me for these faults. I'm only 17 years old. Besides, my parents will be paying your salary, perspective apprentice, until I successfully crack the problem of time travel, which as you can imagine, may take a while.
Once you are employed, I will not pay for your meals, but I will supply an endless mini-fridge of RedBull—and trust me—it shall give you wings. Gotta love a little product placement. I'll be expecting my monthly royalties in the mail. Unfortunately, my address is classified.
But if you are working with me when I solve the problem of time travel, thus counteracting, even dismissing and rewriting Einstein's theory of relativity, you will experience fame that no tabloid piranhas can touch, fame that extends beyond money, and with that fame, more power than is currently knowable.
To have power over space and time is to have power in its purest form. And when I achieve that level of influence, you will be at my side. Throughout our journey to TIME LORD status—it gives me shivers—you will be financially incentivized on each project. Not if, but when we reach our goal, I will be a god, and you shall be the physical entity of our multi-trillion-dollar corporation, with our global economic reign serving as the invisible force that binds us together in an unbroken trinity.
In this modest column, I'm not able to detail every step of my goal; but I assure you, the plans have been drawn up. I must continue the work. And I cannot do it alone. That is why I need you, perspective apprentice to lend a hand. More than that, I need a beautiful mind, one capable of reaching past the boundaries of scientific pursuit into new territory, new frontiers. By the way, I heart Star Trek.
Just a brief warning: I do have an aversion for the name Lenny since that was the name of incompetent monkey from NASA I fired last year. So, if your name is indeed Lenny, don't worry about applying. Your application will be shredded post-haste. And if you are in this particular predicament, I strongly advise an immediate name change.
However, I could be flexible on this point, since I will usually refer to you as "Igor," a term of endearment. I'll rephrase that. I will call you Igor when you are doing well, but in times of failure, I will call you Scum, for that is what every one of failure should be called. But never Lenny.
I hated Lenny. He almost reversed the evolutionary process by simply being alive. In the wild, natural selection would have taken care of Lenny via falling space debris. My tongue goes limp when I try to say it. The word dribbles from my lips like a lukewarm broth; and not in a good way.
There. Now you know.
Thanks for nothing, NASA.
I am the proud owner of the world's largest collection of TV monitors. It's no secret that time travel will be possible only through the use of electro-magnetic pulses. TVs already have that going for them. The strongest currents are conducted through the older models. I find them cheap: garage sales, curbs, and dumpster-diving at electronics stores. Ideally, once I'm a bona fide Time Lord, I'll not only be able to visit any time period I want, but I'll have the power to infiltrate any TV program or movie ever produced.
The jury is still out about the exact physics of all of that, but that's my primary thesis. Sure, it would be neat to to travel back to Egyptian times and supervise the pyramids being built; but it would be even more fun to join Doctor Who on his travels across space and time. Since Doctor Who is a fictional character, I would have to manipulate the electro-magnetic pulses to open different portals into all forms of fictional media.
Now, you may be wondering what the potential dangers are if those portals went two ways, if they were accessible from either side. And honestly, you should be concerned. The trillions (googolplex, really) of unknown variables would definitely elevate the danger zone.
But I'm not going to let that stop me. Science moves forward when people face the risk with ideas, with ingenuity. Walt Disney always told his artists to "keep moving forward," and he was so right. I mean, he was Walt freaking Disney. He had what it took to make magic from nothing.
And so, that's what I'm asking of you. Simple enough.
Will it be daunting? Yes.
Will it be frightening? Yes.
Will I allow you to ask me this many questions when you're holding the zappy end of a flux defibrillator? Absolutely not. Should that discourage you from applying? Well, that, my friend, is up to you. I do not hire spineless jellyfish. Although, it would be electrifying.
*(APPLICATIONS ARE $99, START SAVING, KIDS.)
Peace out
Zach Burns, Fire-Fro
Copyright © 2017 by TJ Moore